headlines!
about town!

For Immediate Release...
DIXLINE CORPORATION TO INVEST over $3.0M INTO ITS MFG. BUSINESS IN GALVA, IL
Dixline Corporation, a leading provider of decorative finishing and EMI shielding coatings, today announced that it is expanding its facilities and capacity. This expansion includes a 275 ft building expansion and increases Dixline's electroplating, PVD metallizing and plastic injection molding capacity and will enable Dixline to increase production capabilities to handle new business growth.
"We are investing in new facilities and processing equipment to support new customers and growth we are seeing across all of our finishing lines. This investment allows us to offer our customers the newest plastic electroplating technology, chrome finishing, PVD metallizing technology and finishing capabilities" said David Fenton, COO/CFO. "The expansion is in addition to our leading technology and capabilities in providing decorative bright and antique finishes on plastic, steel, zinc and brass. "
Dixline Corporation began over 90 years ago by providing casket hardware to the funeral industry. Today, Dixline offers their advanced finishing services throughout the decorative finishing markets in the window/door, agricultural, consumer hardware and automotive accessory industries.
Dixline is experiencing growth and acquiring new customers in all of these industries. "We are definitely on our way to achieve our business plan objectives and expanding our customer base," added David Thomson & Kevin Thomson, co-owners of Dixline.
The company has started its construction and equipment additions both inside and outside of its facility in Galva, IL and plans to have the investment operational over the next 18 months.
Founded in 1924, Dixline Corporation is a decorative finishing and EMI shielding company serving the US and international markets. Dixline's history is in providing
decorative casket hardware to the burial casket industry but has evolved into providing decorative finishes and raw part manufacturing across many end-consumer and OEM industries.
Finishing services include bright and antique electroplate finishes, bright PVD vacuum finishes and powder coating. Also on-site are manufacturing capabilities including zinc die casting, plastic injection molding, steel stamping, punching and roll forming. Dixline also provides its DemeShield™EMI Shielding product for the electronics packaging industry. Additionally, various assembly services are offered to provide customers with a true one-stop solution. For more information about Dixline, visit its website at www.dixline.com.
Images from Veterans Day...
Following are images from the Veterans Day celebration held in Veterans Park in downtown Galva.
For more on the celebration, which was announced by the traditional sounding of the horn for one minute beginning precisely at the eleventh hour (11:00) of the eleventh day of the eleventh month, be sure to pick up your copy of the Galva News.
If you should run into Wayne Abbott, thank him for his sixty years of service to the Galva American Legion, home of the Galva Fusiliers and honor guard.
Galva American Legion Announces December Events...
Free Christmas Meal for Galva's Seniors
The Galva American Legion will be sponsoring a FREE Christmas Meal on 6 December, 2014 for Galva's Senior Citizens. The dinner will be held at the Legion Building located at 45 Wallace Street in Galva. Carry out will be available. Delivery may be made to any senior that cannot get out. Contact Wayne Glissan 309-932-2679 or Lloyd Anderson at 309-932-2509 for delivery. The building will open at 11:00 and service will commence promptly at noon.
Community Breakfast
The Galva American Legion will be holding a community breakfast at the Galva Legion Building located at 45 Wallace Street on 14 December, 2014 from 7:00 a.m. until 1:00 p.m. They will be serving all you can eat pancakes, sausage, bacon, eggs, biscuits and gravy, coffee, milk and orange juice. Pop and bottled water are available for an extra charge. A donation of $6.00 is appreciated.
Director of Public Works Announces Hydrant Flushing to begin...
The City of Galva Water Department will flush water hydrants beginning 6 November, 2014. Flushing will begin in the southeast and southwest sections of town followed by the northwest and northeast sections.
During flushing, rusty water can occur in ANY part of the City, not just the area being flushed! City of Galva water customers are advised to run the water for a few minutes before washing clothes to prevent any staining from rusty water.
Bishop Hill Plans for Julmarknad (Christmas Market)
Prepare for the holidays by attending Julmarknad, or Christmas Market, in Bishop Hill. Hours are 10 a.m. to 5 p.m. November 28th through November 30th and December 6th and 7th. The attractions include Swedish folk characters, traditional Swedish holiday decorations, and Christmas gifts for sale.
See Tomten, our Swedish elves, roam through the town, shaking hands with tourists, looking through windows, and peeking around corners in their red and grey outfits. A working model railroad and woodcarving demonstrations will be in the Steeple Building. The Welcome Center will feature a decorated tree using the Bishop Hill Colony Dairy Maids as the inspiration. These decorations were used on a holiday tree at the Illinois Governor's Mansion in 2013. A multi-artist exhibit will also be located at VagnHall Galleri in the Prairie Arts Center.
On Friday November 28 and Saturday November 29 only, Bishop Hill will have three special Julmarknad activities. Cookie baking will be done in the 1860's Bjorklund Hotel kitchen. Sample freshly baked cookies from 1 to 3 p.m. Old World Santa Claus will visit with children from 11 a.m. to 2 p.m. in the Welcome Center. Cameras are welcomed. A Cookie Walk will be held at the Colony School from 9 a.m. to 4 p.m. Homemade cookies and other baked goods can be purchased by the pound.
On Saturday December 6 and Sunday December 7 only, two unique Christmas Market events will be held. Children are invited to make edible tree ornaments at the Colony Hotel, 1 p.m. to 3 p.m. These ornaments may be taken home, or left at the Site to be placed on the Bishop Hill Park's Christmas tree during the tree lighting on Lucia Nights. A Chocolate Walk will be held at the Welcome Center. Purchase quality chocolates by the pound from 10 a.m. to 5 p.m.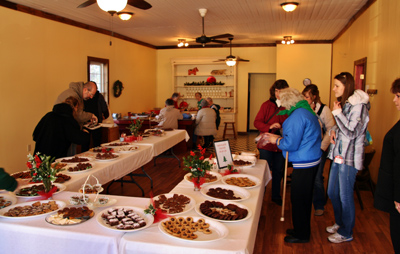 Bishop Hill is located 150 miles southwest of Chicago and 20 miles east of I-74 in Henry County, IL. For more information call 309-927-3899. Visit us at www.bishophill.com.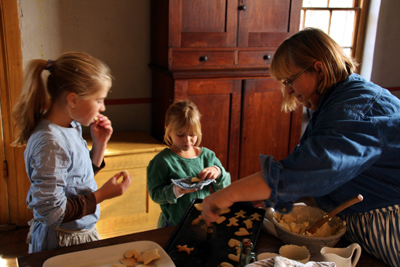 Julmarknad events are sponsored, in part, by a grant from the Illinois Arts Council, a state agency.
View and Print the Official Press Release
*Julmarknad photographs are courtesy of Lou Lourdeau
contact us!