headlines!
about town!

Galva Masonic Lodge Annouces its 7th Annual Scholarship Fund Benefit...
On Saturday, 13 September, the Galva Masonic Lodge will be hosting its seventh annual golf outing benefiting the Galva Masonic Lodge's Scholarhip Benefit Fund, which scholarships are awarded each year to graduating Galva High School students.
This year's event features a $15,000 cash Hole In One Prize!
Perhaps I should repeat that: This year's event features a $15,000 cash Hole In One Prize!
Your $55.00 per person entry fee includes green fees, cart rental and steak dinner.
You may register as an individual or as a team.
Door prizes will be handed out during the award's ceremony, which will include trophies for the winning teams, which includes a Senior Team Division.
As usual, the event will be held at the Kewanee Dunes Golf Club located at 3536 Midland Road, Kewanee, Illinois. Registration commences at 8:00 a.m. and the Preferred Ball tournament will begin with a Shotgun Start at 8:30 a.m.
For more information or to pre-register, call Keith Engstrom at (309) 883 - 0829 or Jim Kiley at (309) 932 - 2876.
Kewanee Dunes
Galva American Legion Announces Two Events...
The Galva American Legion will be holding a community breakfast at the Galva Legion Building located at 45 Wallace Street on 14 September, 2014 from 7:00 a.m. until 1:00 p.m.
They will be serving all you can eat pancakes, sausage, bacon, eggs, biscuits and gravy, coffee, milk and orange juice. Pop and bottled water are available for an extra charge.
A donation of $6.00 is appreciated.
On 20 September, the Galva American Legion will sponsor a Texas Holdem Tournament at the Legion Building. Sign in starts at 5:00 p.m. and play will start at 6:00 p.m. The entry fee is $50 and one re-buy will be available for $25.00. Food and drink will be available.
Galva American Legion Building Post #45
A Chautauqua and much, much more...
On Saturday, September 6th, 2014, Bishop Hill will be having three unique events: the 2nd annual Bishop Hill Chautauqua, Sweet Annie Primitives Autumn Open House, and the VASA National Archives Celebration. If you enjoy history and fall shopping, then Bishop Hill will be the place to be on September 6.
The theme for this year's Bishop Hill Chautauqua is "Uniquely American." This is a free family oriented event where you will hear re-enactors tell inspiring stories about the historical characters they are portraying. This year's schedule includes:
11:00 a.m.: Meriwether Lewis: The Comic Mis-Adventures of The Corps of Discovery, as portrayed by Brian "Fox" Ellis.
1:00 p.m.: Fanny Crosby: Queen of Gospel Song Writers, as portrayed by Virginia Nelson.
3:00 p.m.: Harriet Tubman: Moses of Her People, as portrayed by Kathryn Harris.

5:00 p.m.: Gypsy Davey, Traveling Companion to Woody Guthrie, the Dustbowl Troubadour, as portrayed by Barry Cloyd
All programs will be held at the gazebo in the town square. Please bring a folding chair. In the case of inclement weather, we will move the program indoors.
This program is sponsored by the Bishop Hill Heritage Association, with funding also provided by donations from the public, by the Illinois Arts Council, and by the Illinois Humanities Council. Additional assistance was provided by Brian "Fox" Ellis of Fox Tales International.
Sweet Annie Primitives Fall Open House will be from 10 a.m. to 4 p.m.  Located at 106 South Bishop Hill Street, Sweet Annie's specializes in early cupboards, tables, crock, jugs, quilts, textiles, soaps, candles, and one of a kind handmade autumn objects. For more details, call 309-927-3072 or go to www.sweetannieprimitives.net.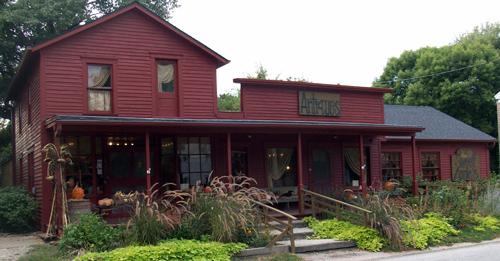 Also on Saturday, Sept 6, the VASA National Archives will be celebrating forty years in Bishop Hill. Located at 109 South Bishop Hill Street, the VASA Archives are designed to preserve Swedish culture in America and Canada. The open house will be from 11 a.m. to 3 p.m., with snacks and beverages being provided. Also from 6 p.m. to midnight, there will be a BBQ, live music, and dance on the Archives lawn. Call (309) 927-3898 for more information about this celebration.
Henry County Farm Bureau and Henry County SWCD Announce Hazardous Waste Collection...
The Henry County Farm Bureau and Henry County Soil and Water Conservation District announce a Household Hazardous Waste Collection Day on Saturday, 20 September from 8:00 a.m. until 3:00 p.m. at the Henry County Fairgrounds located at 311 E. North Street, Cambridge.
To view and print an official list of acceptable and unacceptable waste download the official brochure.
AETA's Working Farm Show Does It The Old Fashioned Way...
With technology propelling all aspects of our lives at breakneck speeds, do you ever long for things to slow down a bit? Well, the Antique Engine & Tractor Association (AETA) has the perfect app for you. Each year, the association and its members haul out hundreds of old-time engines and harvesting equipment for its annual three-day Working Farm Show near Geneseo, in Henry County, Illinois. The 53rd annual show will be held September 12th - 14th, 2014, and features lesser-known tractors and implements. The show is growing and this year will include more than 400 tractors, hundreds of gas engines, several garden tractors, and other agricultural memorabilia.
The Working Farm Show is different from most other farm shows. Much of the machinery on display is actually put to use plowing fields and harvesting corn and soybeans with mid-19th Century equipment. Members thresh wheat and oats, run a sawmill, and demonstrate gas engines from the early to mid-1900s.
Working Antique Corn Pickers
'We want people to imagine they've actually stepped back in time," says AETA member, Skip Farnham. "The equipment will share the spotlight with horses, and possibly a mule or two, plowing the fields." "Old-timers will recall their fathers and grandfathers using these machines," adds Farnham. "We want to educate the younger generations, too. Youngsters will have plenty of opportunities to ask questions and can even take turns learning to drive a tractor." Kids can play in the giant corn pile and all ages are invited to the one-and-a-half acre plot to hand-pick Indian corn, popcorn, or to dig a potato or two south of the timber frame barn.
Learning To Drive
The centerpiece of the association's show grounds is a massive timber frame barn, the product of a 10-day barn-raising effort in 2009. It's a classic 19th Century Midwestern barn using post and beam construction techniques developed in Europe thousands of years ago and used in this country through the 1920's. Built with 19,500 board feet of Illinois-harvested white oak, it measures 48' wide by 70' long with 16' sidewalls.
Visit the blacksmith shop and watch iron work being crafted. Stop at the newly-restored mercantile to view the group's historical artifacts. Venture over to the newly renovated craft barn which showcases and demonstrates the art of weaving, quilting, and wood turning. A variety of crafts and home-baked goods will be available for purchase. Questions are encouraged by all demonstrators who will gladly share their knowledge with you.
Visit Friday, September 12, to watch Max Armstrong, The Voice of American Agriculture, one of the
most widely-recognized and highly-regarded agricultural journalists in America, tape his weekly show from the AETA show grounds. Be sure to plan ahead for another special event at the show next year: the Rumely Products Collectors National Expo. Enjoy several Rumely tractors and equipment plus a Rumely Oil Pull display at the 2015 AETA show on September 18-20.
AETA promotes the collection, restoration, preservation, and exhibition of gasoline and oil engines, plus gasoline and steam tractors, power-driven farm machinery, and other equipment of historical value.
The Working Farm Show is located eight miles north of Geneseo on Ill. Rte. 92, just east of the Rock River. From the Quad Cities or Chicago, take exit 6 on Interstate 88 and follow the signs to the big red barn.
Single day admission is $5 or a three-day pass is $10. Kids 12 and under are free. New this year will be a FREE shuttle service every 40 minutes from 7 a.m. to 5 p.m. located at 465 US Highway 6, Geneseo, IL to the AETA show grounds. For more information on AETA's Working Farm Show, visit www.ae-ta.com.
While at the show, be sure to visit Geneseo, just a few minutes away. Geneseo is a picturesque, vibrant, progressive arts community home to memorable festivals. Located conveniently off U.S. Highway 6 or I-80, Geneseo is now recognizable at the interstate by Windy Point which features two new windmills at the southern edge of town. From Interstate 80 take Exit #19 and drive north on Oakwood Avenue to State Street to experience the revitalized boulevard leading to Geneseo's historic shopping district. The unique collection of specialty shops featuring art, clothing, and home decor is growing. Local restaurants feature a friendly ambiance in which to dine.
For information on everything you need to plan a getaway, including historic sites, attractions, and places to stay, contact the Henry County Tourism Bureau toll-free at 877-436-7926 or visit www.visithenrycounty.com.
Bishop Hill Continues...
Exciting things are happening in Bishop Hill, despite state cutbacks. Starting on October 1, the Bishop Hill State Historic Site will be open only four days per week. However, the State of Illinois operates just three buildings in town. The other 27 Bishop Hill restaurants, museums, and businesses will remain open their usual days and hours. Many of these establishments are open seven days a week.
State cuts also do not impact any of the events being hosted in this pre-Civil War historic village.
In September alone, there are three weekend events. On September 6, there will be three activities going on in the village: a Chautauqua in the park, an open house at the VASA Archives, and a fall open house at Sweet Annie Primitives. September 13 is Old Settler's Day, with a Colony School Reunion scheduled for September 14. Finally, Jordbruksdagarna (Agriculture Days) will be held on September 27 and 28. Bishop Hill's traditional fall and winter events will continue as planned, with additional programs being added by a variety of organizations and businesses.
Bishop Hill Steeple Building
In addition, restoration work continues on the Colony buildings of Bishop Hill. The Bishop Hill Heritage Association has recently finished exterior restorations of the 1853 Colony Store and the 1854 Steeple Building. The BHHA is currently working on restoring the interior of the 1855 Dairy Building. The Bishop Hill Arts Council has recently saved and converted the Arnquist Store into the Bishop Hill Welcome Center. Other Colony Buildings, such as the Colony Hospital and the Colony Administration Building, have been brought back to life by private individuals.
Bishop Hill Ag Days
Bishop Hill Welcome Center
While it is regrettable that the Bishop Hill State Historic Site will have their hours reduced, the historic village of Bishop Hill remains open and ready to share our unique heritage with visitors. Call (309) 927-3899 or check out the Bishop HIll Website for additional details about the events and the unique businesses that Bishop Hill has to offer.
Lucia Nights In Bishop Hill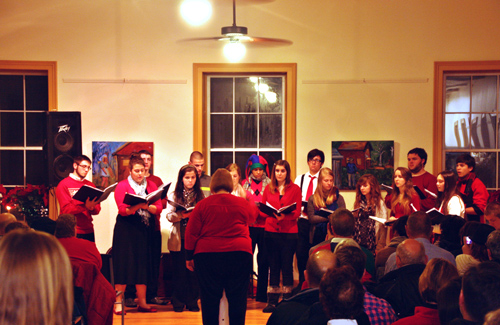 Photos courtesy BHHA.
contact us!